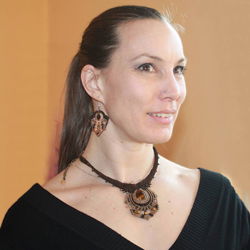 Why Imbali Crafts?
I am a true fan of originality, my belief is that everybody should surround themselves only with beautiful things that bring joy and happiness. We always find beauty in things that are odd and imperfect – they are much more interesting.
Origins
A little bit about the origins: The name 'Imbali' was borrowed from the Siswati language and has two meanings: It is the word for 'flower' but is also - quite befittingly - the word for young Swazi maidens that gather once a year for a special ceremony held for the king of Swaziland. This was the perfect name hence 'Imbali Crafts' was named.
Macrame
My family has always been a very crafty lot. Some of my fondest memories as a little girl are spending many blissful hours making Christmas decorations, mask sculptures and paintings with my mum and gran. I first learned about macrame at school and my first project was - you guessed it - a macrame pot hanger! But it was not until I moved to Swaziland, in Southern Africa, many years later that I discovered micro macrame. On one of my numerous visits to one of the fabulous local markets I saw a Swazi woman weaving the most beautiful handiwork. It turned out the be a beaded ceremonial piece worn by the young Imbali while partaking in the Swazi Umhlanga reed dance. I was inspired by the colourful African art and began to develop my own style, learning as I went along. I believe that hand crafted designs are special because each piece is unique and can capture part of the creators spirit.
Wire weaving and other Mediums
In the years that followed I tried a variety of different mediums and fell in love with wire weaving and the beautiful creations that can result from a marriage of gemstones and metals.
I love using natural materials for my projects and sourced these wherever I could.
Teaching
I taught myself as best as possible, but often had frustrating moments where I could simply not figure out how to make a specific pattern or style. A few years on, with this in mind, I decided to make guides for like minded crafters. Teaching others is something I truly enjoy, so I hope you will have fun working with my tutorials or classes. You can also tune in to Jewellery maker for live shows where I will be teaching alongside many very talented artists. To see when I am on just take a look at the programme guide.
Happy Crafting !!!
Nadja