Chinese waxed cotton cord - I have no idea why it is called that as it does not seem to have any wax content - is a great cord for beginners. It is a firm cord that holds the knots well during the knotting process and is easy to use. I like using it for less detailed projects that I want to complete quickly. Its 1mm + thickness makes knotting a quick affair as there is a lot of volume with relatively little knotting. Even though it appears to have the same diameter as C-lon and Linhasita, the cord takes up much more space and the downside is that any beads smaller than 6/0 won't fit but you can still use many other beads with a larger diameter hole. I have made many earrings and necklaces with this cord and enjoy working with it. If you like to incorporate kumihimo into your macrame work, this is the cord to use! The woven columns are beautiful and the knots present very nicely. It does not tangle much at all and it is really easy to work with.
Pros:
Very easy cord to work with and is great for beginners
Hardly tangles and if it does, it's easy to sort out
It is readily available just about anywhere at a very reasonable price
It has a huge variety of colours
Can be used for kumihimo projects
Comes in many different lengths
Cons:
Colours fade in sunlight eventually
If knots have to be undone the cords can look tatty thereafter
Its thickness means that all smaller beads are not suitable
Allthough it is called Chinese 'wax' cord an adhesive is required to finish off the ends
Specifications: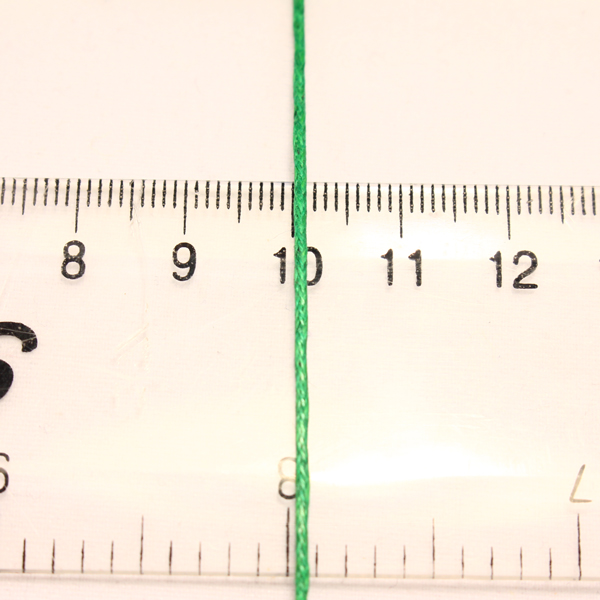 Chinese waxed cotton cord:
thickness: ranges from 1 mm to 2.5 mm
bobbin/spool size: between 10m/11yards sold loose & 100m/100yards rolls
type of cord: waxed cotton cord
threadable seed bead sizes: 6/0 (4 mm) is the smallest that can be double threaded - just!. 8/0 will fit with just 1 cord
price: currently ranges from $1 - $4 per meter or around $4 - $6 per roll
Places you can buy Chinese waxed cotton cord from:
http://www.ebay.com/itm/1mm-Waxed-Cotton-Cord-Various-Colours-And-Lengths-Available-Jewelry-Making-/171323633908?pt=LH_DefaultDomain_0&var=&hash=item27e3af30f4 (sample of a listing on ebay)


This cord is very easy to find. Many beading and crafts stores will carry this cord, and it is readily available on Ebay and other online stores.
Some of my projects made with Chinese waxed cotton cord: