Thai waxed cord. After having tried many different types of cord, I finally settled for this one. There are several reasons why this is my cord of choice. The first being the finished look of my macrame pieces. Because the cord is not braided the knots blend into each other beautifully, giving your work a very smooth and even look. My favorite part is when I finish a project and heat it. It is almost like an ugly duckling kind of transformation every time, as the initial look is much less vibrant. Heating melts the excess wax and brings out the colours and 'cures' the cord. Once cooled it stiffens and prevents unravelling even further. The knots never loosen during knotting and it is very easy to manipulate. I have found this cord in several differnt sizes but use only two: 0.85 mm and 1mm in diameter. I prefer to work with the thinner of the two as Japanese Toho seed beads as small as 11/0 are threadable. No glue is required as excess cords can just be trimmed off and the ends heated to finish. Bad knots happen to everyone and another plus point for this cord is that, even when the cord has been undone several times and looks quite tatty, once knotted and later cured, you could not tell the difference! On the downside, because this cord is heavily impregnated with wax it is very sticky and tends to tangle and snag easily. Frustrating when having to work with longer cords for a large project. It is definitely not a cord that is suitable for kumihimo. Sadly, it is quite difficult to find and after extensive research I have only found two or three sources for this cord, and because of this, colour choice is also quite limited. I have found around 20 or so colours only. It is good value for money though as each roll has around 600m /656 yards and lasts forever!
Pros:
Absolutely stunning finish
Knots do not come apart (this can be frustrating as well at times)
It 'cures' when heated and does not require an adhesive when finishing off the ends.
It takes a lot for before the cord becomes unusable and can be undone numerous times without adverse effects
It is water repellent and can become wet without losing colour or shape
Cones are extremely good value for money and at 600m/656 yards per cone it lasts a long time.
Cons:
Limited colour choice (around 20 colours for each size)
It snags very easily
Knots are difficult to undo
Usable, but not the best cord for kumihimo work as it is very sticky and tends to snag
It is quite hard to find and suppliers are limited to just two or three
Specifications: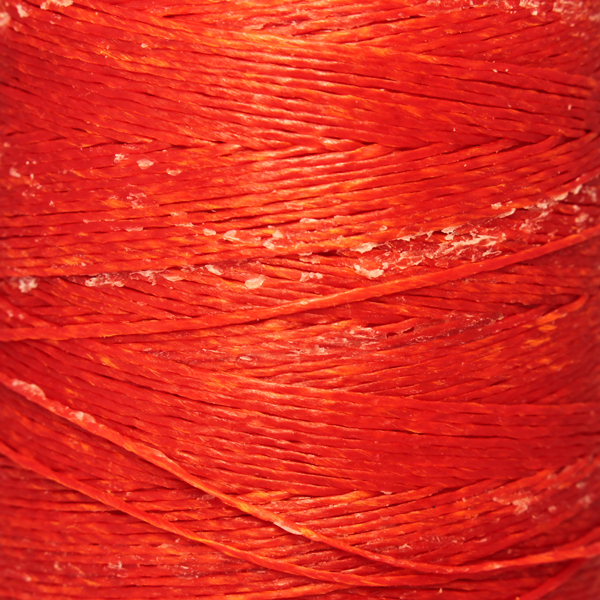 Thai wax cord:
thickness: ranges from 0.5 mm to 1.5 mm
bobbin/spool size: 600m/656yards rolls
type of cord: unbraided waxed cotton cord
threadable seed bead sizes:
0.85 mm cord: 8/0 (3 mm) is the smallest that can be double threaded - 11/0 (2mm) will fit with just 1 cord
for the 1mm cord: 6/0 (4 mm) is the smallest that can be double threaded. 8/0 will fit with just 1 cord
price: currently ranges from $14 - $40 per roll but is extremely good value as each roll as 600m/656 yards of cord
Places you can buy Thai wax cord from:
Some of my projects made with Thai wax cord: