So here we are at last! I am so excited to kick of this contest as a little thank you to you all for your amazing support!! Thank you, thank you, thank you!!!
Start: Tuesday, 27th of November 2018 at 12:00 pm GMT
Closing: Monday, 10th of December 2018 at 5:00 pm GMT.
The winners will be announced on Wednesday the 12th of December 2018 at 12:00 pm GMT
What can I win?
This is a facebook and instagram photo contest. There are three available prizes to be won. The top 8, most popular photos, will be entered into a final and the winners will be decided by a judging panel. Ensure to add the hashtag #craftypetscontest on your facebook and instagram submissions!!
The Theme of this contest is 'Crafty pets'
So for example, Loni, my sister's cat, (in the photo below) thought my macramé board was an appropriate place to take a nap. If you have a cute little 'helper' at home here is your chance to enter the competition. Your entry photo must have to do with pets & crafts and can be funny, cute, mischievous etc… share your entry with family & friends to collect votes! Posts on instagram with the hashtag #craftypetscontest will automatically be entered into the gallery.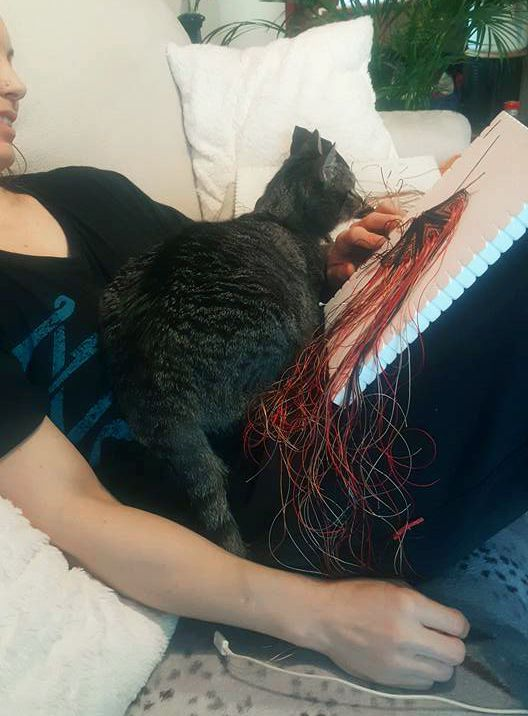 Loni taking a nap on my macrame board

There are three prizes up for grabs:
1st Prize
As a multi medium lover I know how important it is to have a bit of everything. For that reason I have decided to put together a bundle of hand picked, high quality gemstone cabochons, 4 full strands of popular gemstones, 210 m of 0.4 m micro macrame s-lon cords, 32m of 0.9 s-lon, 40 m of silver plated wire in the most used gauges and much more!. This is a comprehensive designers materials kit worth £125 including:
AAA blue flash, striped labradorite
Ammonite fossil
Yellow inclusions phantom quartz
Brown inclusions phantom quartz
Dragon veins marquise agate cabochon
Purple fluorite cabochon
Green, facet cut fluorite
Titanium druzy geode
Lapis lazuli cabochon
amazonite cabochon
2 diamond cut mossanite
1 strand of fresh water pearls
1 strand of Labradorite rondelles
1 strand of Mozambiquan garnet fancy cut
1 strand of amethyst drops
10 m of 1 mm silver plated wire
10 m of 0.8 mm silver plated wire
10 m of 0.6 mm silver plated wire
10 m of 0.4 mm silver plated wire
70 m of white s-lon cord
70 m of light brown s-lon cord
70 m of aqua s-lon cord
32 m of khaki s-lon cord
3 x 15 tibetan spacer beads
3 pairs of earring findings
15 ball pins
16 jumprings
2 pairs of toggle clasps
4 kumihimo cord ends
10g of 11/0 topaz jet lined Toho seed beads
10g of 11/0 Aqua Jet lined Toho seed beads
10g of 11/0 Crystal Rose gold line Toho seed beads
3 x satin lined gift boxes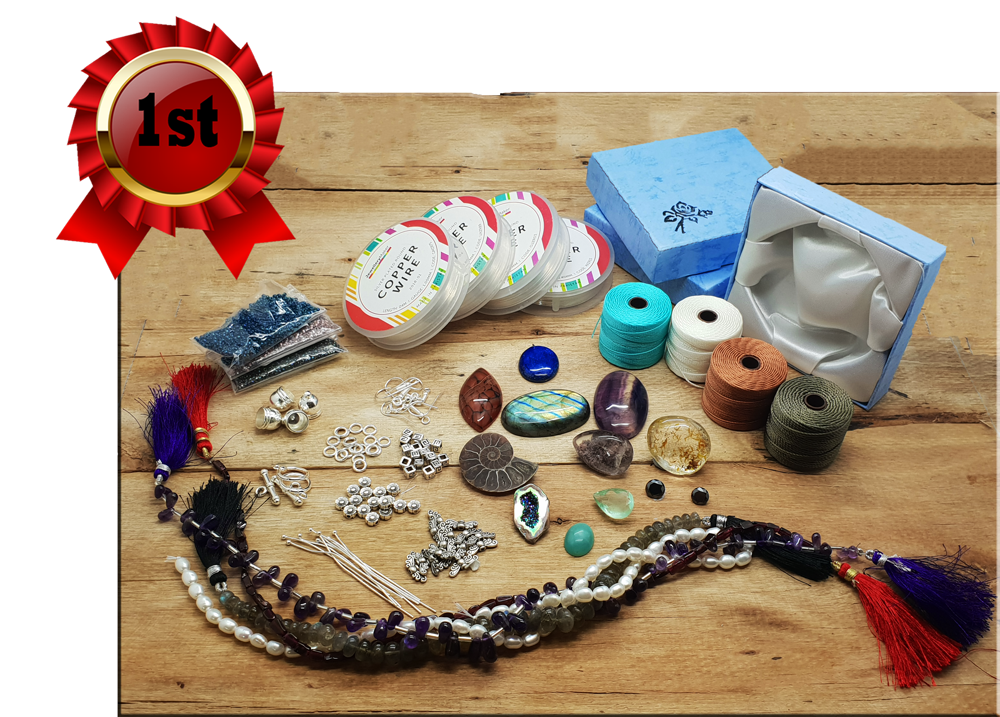 2nd Prize
One of a kind micro macramé abalone shell necklace & a silver plated, fresh water pearl, wire bracelet worth £75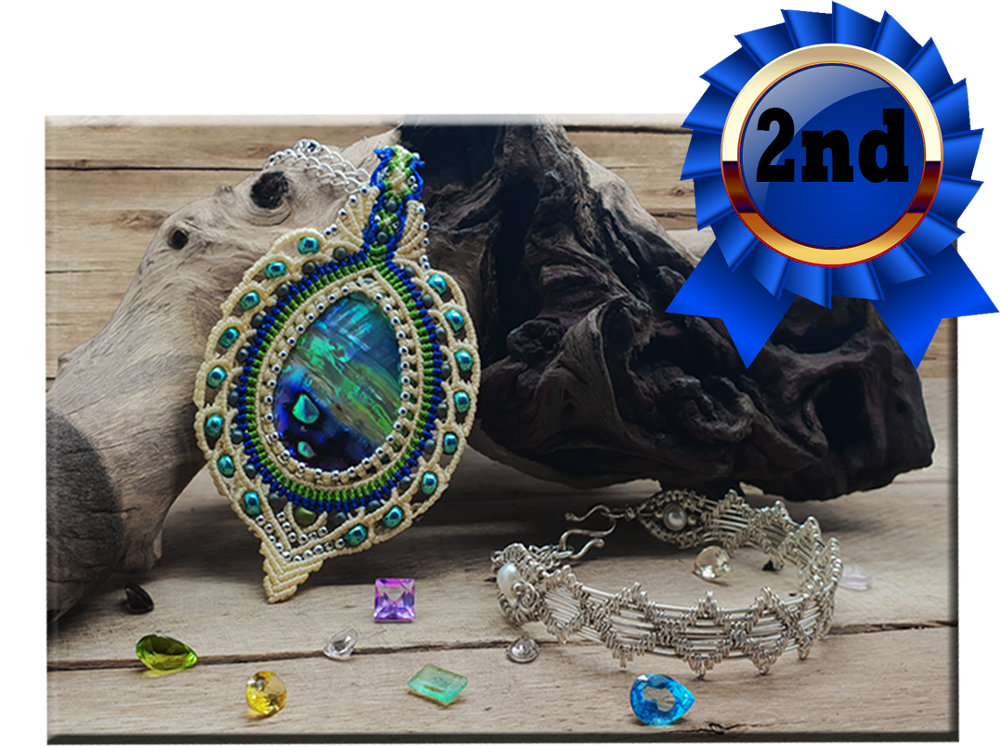 3rd Prize
Two free tutorials of your choice plus £15 credit on anything on the Imbali Crafts website worth £25